Gone But Not Forgotten:
Science Fiction Genius C. M. Kornbluth

Compiled and edited by Heribert E. Severing, M.D.

Even though having died age 35, Cyril M. Kornbluth wrote a lot of good science fiction, on his own or teaming up with Frederik Pohl. But he never did get the fame he deserved.

The Biography and Works...
Cyril M. Kornbluth was born in New York City in 1923. Being an active part of the science-fiction fandom in the 30's he started professional writing age 15, a member of the Futurians. By the early 40's quite a number of his stories had been publicised in several magazines under several aliases of whom S.D. Gottesman and Cecil Corman were the most frequent.
After spending some time for university studies in Chicago, he served with the Army in Europe during WW II.
In the post-war years, he went for university studies on the G.I. Bill to Chicago again, he worked with Trans Radio Press there up to the year of 1951, when he took to professional writing for a living.

His best known novels resulted from the fruitful cooperation with Frederik Pohl. The most important were The Space Merchants (1953), Search the Sky (1954, and Wolfbane (1959, shortly after his untimely death). It was Space Merchants that took its place in SF's hall of fame as being one of the most biting satirical novels ever written in the genre. Important parts of the novel were written by Kornbluth and showed his ability of society-critical and satirical writing.
Besides of Frederik Pohl, C.M. Kornbluth teamed up with Judith Merril. The novels Outpost Mars and Gunner Cade (1952) were released, the author being named as Cyril Judd.
But also the novels he did on his own, like Takeoff (1952), The Syndic (1953), and Not This August are highly remarkable.
Even more important were his short stories. Some of his best are The Marching Morons (Galaxy 4/'51), The Little Black Bag (Astounding Science Fiction 7/'50), The Altar at Midnight (Galaxy 11/'52) and Ms. Found in a Chinese Fortune Cookie (The Magazine of Fantasy and Science Fiction 7/'57).
Kornbluth's novels and stories showed a turn to the soft sciences (social and psychological) for the first time.
Even though he was suffering from 'malign hypertension' and died from a heart attack at age 35 in 1958, he led SF into the next decade and to new horizons.
CYRIL M. KORNBLUTH

His Share of Glory

The Complete Short Science Fiction of C.M. Kornbluth




The NESFA Press
Post Office Box 809
Framingham, MA 01701-0203





If you have any additional material to be contributed to this page, please let me know.
If you're really going for Science Fiction, come along to Robert A. Heinlein.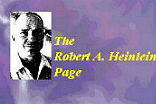 ---


...your guide to science fiction on the web
---
This page was launched in November 1996.
Revised on May 10, 2018.

---
© 1996-2018 Cyberherb/Luna-City.com Heribert E. Severing